Essex Business Forum is a successful local business networking organisation who provide weekly networking meetings for their members in Brentwood.
The website has a number of core functions that it was required to perform:
To act as a public face of the business, attracting new members to come along to the weekly meetings
To provide a directory of members and showcase their individual businesses
To position EBF and its members as trusted, reliable local contacts
Competition for business networking groups is fairly heavy, with some groups better than others and one or two organisations having significantly larger budgets.
The scope of work for Eseyo was to extend beyond the website build but to manage the entire digital strategy for this business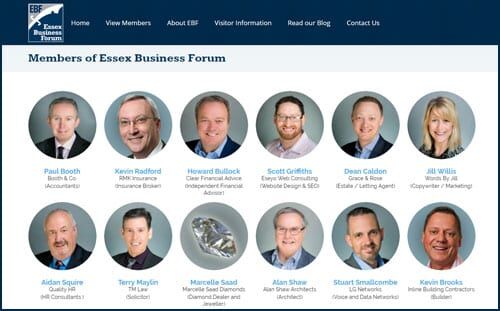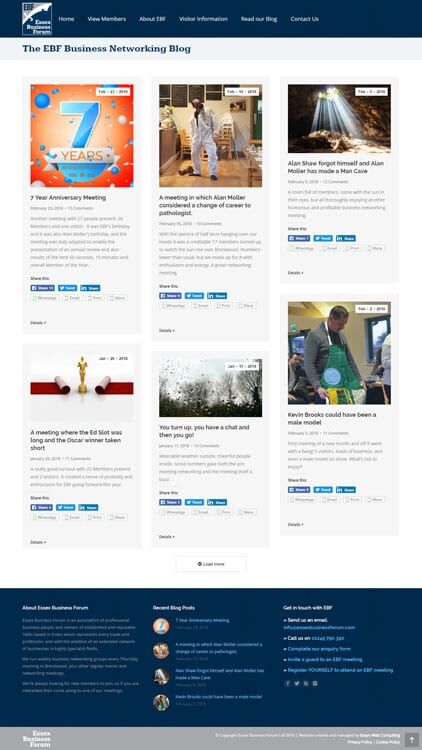 A website was initially created and which has since evolved through one or two design refreshes.
The member's directory section of the website is a high traffic area that now delivers enquiries to its members on a regular basis, many times per day.
Maintaining an active blog which is updated with meeting reviews each week ensures that the website reaches its wide audience, and it regularly receives many comments and shares across all social media channels.
A ReMarketing campaign for this project ensures that any visitor to the EBF website will begin to see their marketing banners as they browse the rest of the web, and these have proved successful at reminding people of who EBF are and to converting meeting visitors or members.
Finally, Email marketing has been used with EBF as a training platform for members delivering a 10-week program of weekly email advice. Email marketing is also used in the visitor invite process and the visitor follow-up and feedback.
Having Scott and his team managing our website and digital strategy is a huge benefit to our organisation. The website is the first time that our potential members experience our business and we are really pleased with the impression that it creates.
Our individual members have confirmed that the website generates them frequent new-business leads, and the number and quality of visitors that attend our weekly meetings has hugely increased since Scott recommended that we use his Live Chat facility. It's easy for visitors to find everything that they need to know about our group which is exactly what we asked Scott to achieve.
The ongoing promotional work that Eseyo complete for us help us to really get in front of a targetted audience.
We're delighted with the work that Eseyo have completed for us and we hope to continue a long relationship with them.
Aidan Squire, Chairman of Essex Business Forum.